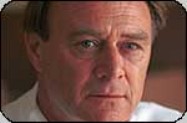 Christopher Cazenove trained at Bristol Old Vic Theatre School and has worked extensively in film, television and on renowned stages across the world.   He was one of Britain's finest and most in demand actors. 
His motion picture credits include The Proprietor, Aces III, Three Men And A Little Lady, Hold My Hand, I'm Dying, Souvenir, The Fantasist, Mata Hari, Until September, Heat And Dust, From A Far Country, Eye Of The Needle, Zulu Dawn, The Girl In The Blue Velvet, East Of Elephant Rock, Royal Flesh, There's A Girl In My Soup and First Knight. On television he has played Ben Carrington in the USA produced Dynasty series and more recently the part of Row Coleman in top rated BBC drama Judge John Deed. Other programs in which Christopher has starred include HBO's Cinema Verity and such shows as Dead Man's Island, Shades Of Love, Windmills Of The Gods, Cain And Abel and Lace II. Christopher's theatre experience is comprehensive and runs the gamut from lead roles in Hamlet, Cyrano De Bergerac, Othello and Peter Pan to Brief Encounter and The Sound Of Music.
We are delighted and honoured to have Christopher's words for you.
Here he writes for you about his particular route to success and how you might map out your own.