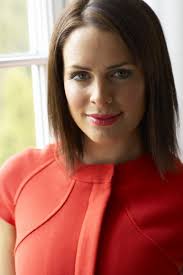 Susie Amy was born in London in 1981, and brought up in Surrey. Although she always studied drama, she went to a regular academic school all her life. Her career began when an agent spotted her in 1999 while she was doing the play After Juliet by Sharman McDonald at the National Theatre in London. Over the next two years she got parts in Sirens, The Swap, My Family and the sitcom Sam's Game.
She became a household name in 2001 when she was chosen to play Chardonnay Lane in the ITV drama Footballers' Wives.
Since then she has recorded a second series of Footballers Wives and in 2002 was chosen for the lead role of Valentine D'Artagnan in the Hallmark Production La Femme Musketeer, starring alongside Michael York, Gerard Depardieu and Nastassja Kinski. Susie has also appeared in Hollyoaks and the films Modigliani and House of 9.
---
Surviving the Industry
I think it's always important in the industry to be resilient and not take things personally. Every actor will face more refusals than offers, it can be for any reason – your accent, your height, or your hair colour – what producers have in mind is usually specific, so there is no point in thinking negatively, you can learn from every opportunity and meeting.
It's good to go to classes and read books, there are so many on acting – for stage and screen. One that I read while I was studying was Stanislavski's An Actor Prepares, also Sanford Meisner On Acting. An essential book to get is Contacts which you can purchase on the Spotlight website at www.spotlightcd.com. It's a complete guide to agents, photographers, managers, broadcasters, costumers and their contact details.
One of the most important things to stress is never go with an agency that tries to charge you a joining fee. A genuine agent that believes in you will not take any money from you at all until you get work. A genuine agent works on a commission basis and will typically take 10-15% of your earnings. Agencies that try to charge you up front will be doing it to hundreds of people and making money like that rather than by getting their actors work!
Once you start to work, I believe it's best not to stay in one role for too long or there is a real danger of ending up stereotyped. It can be difficult and nerve-wracking to walk away from work youíve been offered – it's a risk. Every situation is different, and when the time comes you have to listen to the advice of people who've been in that situation as well as to your own instincts.
If you get a part in a show that's going to involve publicity, some of it will be great and important but in some cases youíll have to be careful. I did a photo shoot for scenes written in a show where my character was playing a model – the next thing I knew these photos were in the papers. I was shocked and upset. Never do photos that you feel uncomfortable with – it is a huge mistake and one that is very difficult to correct. Always check publicity with your agent. Having control over pictures where possible (or necessary) is invaluable – you can't trust everyone. Again, although it's hard when untrue or unfair things are written, try not to take it too badly, anyone with any sense knows not to believe what they read!
Susie Amy
2003