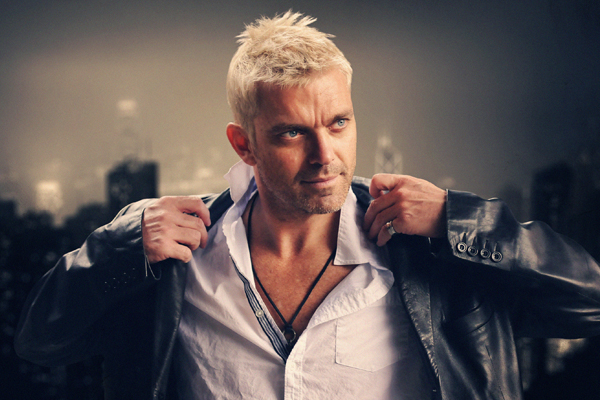 Gil's career started in the UK with credits including Hollyoaks, Holby City, Doctors, Brookside and The Bill. After relocating to Los Angeles, he promptly turned out a strong performance in Entourage, as well as many memorable commercial spots including the #1 Super Bowl Commercial of 2011 for Audi. Gil credits his Ketel One advertising campaign for transforming his career and saving him in the nick of time from returning to a 'normal' job! His career then took off with feature films including All Things to All Men with Gabriel Byrne, Amnesia, Don't Look Up" and the 2014 release of Redirected, an outrageous black comedy with Vinnie Jones. Gil starred as Christian de Guise in the CW's hugely successful period drama Reign and can currently be seen on Netflix playing Donnie in the movie The Ghost Who Walks.
One of life's good guys, Gil has taken the time to share his story with us and offer some valuable advice to his fellow actors.
---
I never considered being an actor and had my heart set on representing Australia at the Olympics in field hockey and winning our first gold medal.
We'd been the #1 team for 15 years but hard luck stories had always dogged our Olympic dream.
So I left home at 18 and headed to Perth, Western Australia to achieve that goal. At 23 I was progressing towards that goal when my girlfriend and I took a trip to Europe, stopping off in London. She loved musicals and was dying to see Phantom of The Opera, for which it was impossible to buy a ticket for. However you could queue up for returns on the day. So we got to the theatre to be first in line at 12pm.
Now by the time the show started at 8pm I was exhausted and settled down for a nap in Row E of the glorious Her Majesty's Theatre while she enjoyed the show. My nap never occurred as I was mesmerized. The set was beautiful and when the actors sang that opening night, I literally looked around the theatre trying to figure out how he was lip syncing so beautifully to the CD that was playing.
Then I realized…HE'S SINGING LIVE! And it sounds AMAZING! Like myself EVERYONE in the theatre was mesmerized. As I wondered at their brilliance I thought to myself "What can I do? I can run. That's pretty much it. This guy when act, sing and dance and affect all these people so deeply."
After the show I walked across Waterloo Bridge in a daze and I kid you not, a bright light shone down on me from above halfway across that bridge!
Fate had proved fatal to my sporting career; I wasn't going to be a hockey player, I was going to be an actor.
Now, take a moment to process what I said there.
I never said "I wanted to be an actor" or that I would "try to be actor".
This was my one absolute and solitary purpose in life. I was to give everything to one clearly defined purpose. I was going to be an actor.
Whatever it took.
By any means necessary.
I was going to leave nothing out on the field (my sporting training was priceless for developing that attitude, even if it was no longer required for anything else.)
So with zero experience whatsoever I applied to the best Musical Theatre School in the world, Mountview Theatre School and miraculously got accepted.
Fast track to a few years later and I'm working in a bar pushing tequila shots while I pursue my dream. My friends and family wondered why I wasn't using my athletic know how to earn my keep but the truth was I knew I had to avoid that temptation.
I still loved the arena of physical fitness, I still kept fit but I knew if I dipped my toe back in then there was every chance that it would suck me back in and distract me from my goal.
I repeat (and there were definitely days when I had to repeat it to myself often 🙂
I was going to be an actor.
When I went to Mountview I was surrounded by some seriously talented people. ALL more talented than me, who had been singing, acting and dancing since childhood. My classmates were mostly 18-20 years old. I was 28!
BUT!
I had the experience of life on my side and was able to put EVERY hour I had previously dedicated to my sport into my new found career.
As the years went by, I watched the majority of my graduating year give up and fall away. I'd say about 99% of them are in other professions now. Safe ones, ones with a regular pay cheque and regular hours – which is honourable and decent but I can't stress enough that if you really want to be an actor you can't do that.
No fall back.
Ever.
You see the trick to succeeding as an actor, I feel, is having the ability to keep pursuing excellence, no matter the cost!
Wentworth Miller of Prison Break fame once famously replied when an interviewer called him a success:
"I'm not successful. I've had 6 jobs from over 180 auditions."
Christopher Reeve, of Superman fame used to get so tired of the constant rejection that he would keep a log of his success. He created a notepad numbered 1-100. After every audition he would tick the numbers 1-100. He decided not to give himself a hard time unless he got to 100 auditions without a job. This is Christopher Reeve, one of our film greats and also a wonderful theatre actor. I decided to do the same and on my 1-100 list I place a tiny piece of round paper from my hole puncher on it after every audition. My worst run to date is 36 auditions, be it commercial, film, TV or theatre, without a job. I suggest you do the same. It will give you peace of mind.
So let's look at how you might do that and I'll happily share my own experiences in case it's of any use to you.
In all cases you have to think of this as your job and that means that you should be spending at least 8 hrs/day working on your craft.
1. Learn how to sing
2. Learn how to dance
3. Learn a martial art
4. Learn an obscure skill eg. trapeze, flame throwing….
5. Learn 1 language/yr
6. Learn 1 accent/yr
7. Read, read + READ – 1000 pages/mth ( I'd read 1 classic novel, 1 play, 1 screenplay, 1 biography/autobiography/mth )
8. Keep super fit
9. Find a way to sustain yourself so that acting is something you do because you love it, not something you NEED to do to survive – that's too hard and too much pressure to put on yourself. It may take 3 years. It may take 15 years but you can do it.
10. SURROUND YOURSELF WITH POSITIVE PEOPLE. Keep negative people out of your life be it friends or family
11. Keep up to date with all the plays and TV shows
12. Go see a play/ballet/opera 1 x mth
13. Just improve every year
14. Find a mentor. Nowadays with Facebook + Twitter you'll be surprised how often those at the top want to help those aspiring to succeed. I wrote to my idol on Facebook in 2008 and now we're close friends
15. Keep a record of all your auditions and meetings. As an athlete I used to keep a sporting log with my daily resting heart rate, how a training session went etc. Create a log like that, but for ALL of your interviews and auditions. Write down who you met, what interests they have, details of the project even what you wore and don't forget to record the names of any assistants in the office (I guarantee if you commit their names to memory it will help you one day as they may well become the top casting director in town and will remember if you were a kind person back when they were also climbing the ladder.)
And MOST importantly:
16. NEVER GIVE UP!