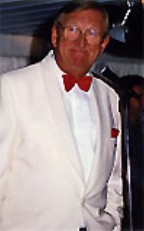 Mike Craig
Mike Craig was born in Batley, Yorkshire – a fact he will tell you within seconds of meeting. Almost educated at Wheelwright Grammar School, Dewsbury, he's been a writer, performer and producer since 1964 and until recently held the post of head of light entertainment at BBC radio.
He has been involved in writing or producing over 1200 comedy programmes for television and radio, including shows and series for Ken Dodd, Roy Castle, Rolf Harris, Tony Brandon, Harry Worth, Al Read, 'Selwyn Froggitt', Mike Yarwood, Hinge and Bracket, Richard Stilgoe, Des O'Connor, Tom O'Connor, Jimmy Tarbuck, The Grumbleweeds, Bernie Clifton, Jimmy Cricket, Tom Mennard, Gorden Kaye, Su Pollard and Morecambe and Wise (including the classic 1976 Christmas show when Angela Rippon bared her legs!)
He is recognised as an authority on the 'Golden Age' of Comedy and because of this he is one of the most sought after 'After Dinner Speakers' in the country.
Since 1983 he has performed his 'ABC of Comedy' to tens of thousands of passengers on the P&O cruise ships 'Canberra', 'Victoria', 'Oriana', 'Arcadia' and 'Aurora'. Fred Olsen's 'Black Watch' and 'Black Prince', and Cunard's 'QE2'.
His first play – 'The Day War Broke Out', the story of Robb Wilton, had its world premiere in Mike's home town in March 1998.
---
Never Let 'Em See How bad You Are
One of the bests bits of advice ever given to anybody! So many people, many of them I know and have worked with, have jumped at the chance to earn big money when they were ill equipped to tackle the role required! I can remember one comedian in the seventies who was very big. He packed them in everywhere and made them laugh. His agent rang him one day and said, 'We've cracked it! I've just had ITV on the phone who want you to host this game show. The money is brilliant and you'll be doing 26 weeks!' Although a superb comedian, he couldn't handle people. He was a disaster and soon the phone was ringing to cancel his engagements as a comic! He is still around but he paid the price for not seeing the sense in saying 'No' to something which he was unable to cope with.
Don't Look On Radio Work As A Waste Of Time
As a Radio Baby (I used to listen to the radio when the radio used to be on the wireless!) I can assure you that the value of being experienced in radio will stand you in such good stead. I have always encouraged actors and actresses to do radio. First and foremost it's the best medium in the word, a writer's medium and an actor's medium! Secondly, the pressure isn't as great as performing on TV. Ok, neither is the money, but to have 'Experienced in Radio' on your CV is worth a lot. And you get to work with such wonderful people, both on the acting side and on the technical side. There is no better way to learn than to work with experienced people. Another point. Radio listeners tune in because they want to hear the programme. Always best to play to an audience who are keen to tune in.
I shall endeavour to attempt to finish on a laugh. I have worked many times with Eric Morecambe, who was one of the very best timers of a line. In 1976, the year I was on the writing team of their Christmas Show, Eric stayed at my house overnight in Yorkshire. After a superb lunch on the Saturday, we retired into one of my two lounges – ahem! There were three of us, Eric, myself and a bottle of Southern Comfort. As we sat in very comfy armchairs facing each other with a beautiful roaring fire in the grate, I suddenly realised that if any one could define timing, it was Eric. Very hard to define timing, you see, it's like beauty, you know it when you see it. So, with the Southern Comfort working well I asked him…. 'Eric, you're the best timer around, come on, give me some words of wisdom. Define comedy timing for me.' I can see him now, sipping his drink, smacking his lips and saying – 'That's a good question, Mike. Timing. Mmmm. Timing, in my opinion, is Des O'Connor getting out of the stage door before the audience can get round from the front!'
Blackout and tabs!