Don't Dribble on the Dragon
Buy merchandise from the People's Theatre Company's smash hit show Don't Dribble on the Dragon, including the original book which inspired the musical. Scroll down to view and purchase products.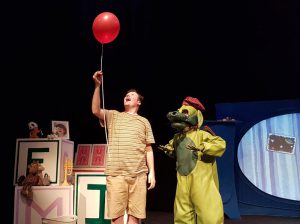 "A heart warming story full of love, laughs and sing along songs, this is perfect entertainment for adults and children alike – and brilliant fun!" ★★★★★ The Guide
"By far the best children's show I have ever seen. A truly magical 60 minutes." What's Good To Do
"A lovely adaptation of the story by Steven Lee… With echoes of Toy Story this is a marvellous, magical, musical show." ★★★★★ Alan Harbottle, North West End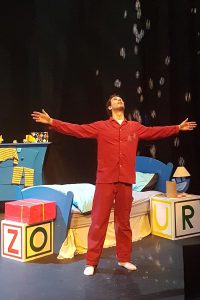 "I loved Don't Dribble On The Dragon and I was not alone, every member of the audience loved it too. The story is beautiful and the show is uplifting and heart warming" ★★★★★ Annellen Fazackerley, West End On Line.
"This lovely show is perfect for families with just the right balance of interactive fun and heart warming story." ★★★★★ Helen Millichamp, Northumberland Gazette
"I love what The People's Theatre Company do." Debbie McGee, BBC Radio Berkshire
The show
My brother has a dragon and he keeps it secretly
Within a box beneath his socks. He's hiding it from me…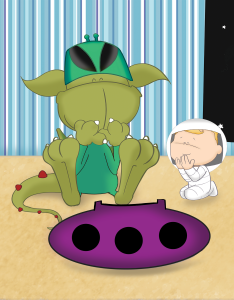 Tom is a toddler with a big, older brother, a secret dragon… and a dribbling problem that just won't stop! When Tom's endless drooling threatens to tear the brothers' friendship apart can his dragon's crazy magic help them put it back together again or will it only end up making things worse?
Based on the fabulous new book by Steven Lee and with magic designed by the legendary Paul Daniels, this spectacular musical adventure about growing up and the importance of family is the perfect feel good show for big hearted adults and loving little ones alike.
For adults and kids of all ages (not recommended for under 2s)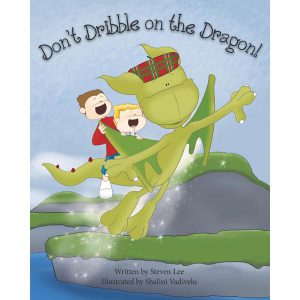 The story of Don't Dribble on the Dragon begins when Jack was just a little baby. His aunt, my sister Gemma, bought him a toy dragon and, when his teeth started to come through, he would just dribble all over it and we would all laugh and say: 'Don't dribble on the Dragon, Jack!'
Enjoy listening to the song Breathe from the show, or click the link below to buy the book.
Showing the single result